When people ask how business is going, I think about how my dad — an elevator man — responds to the same question: "sometimes it's up, sometimes it's down." It's a lighthearted response, but a realistic perspective in running a business. If the ups outweigh the downs, something must be going right.
2013 Highlights
Batman News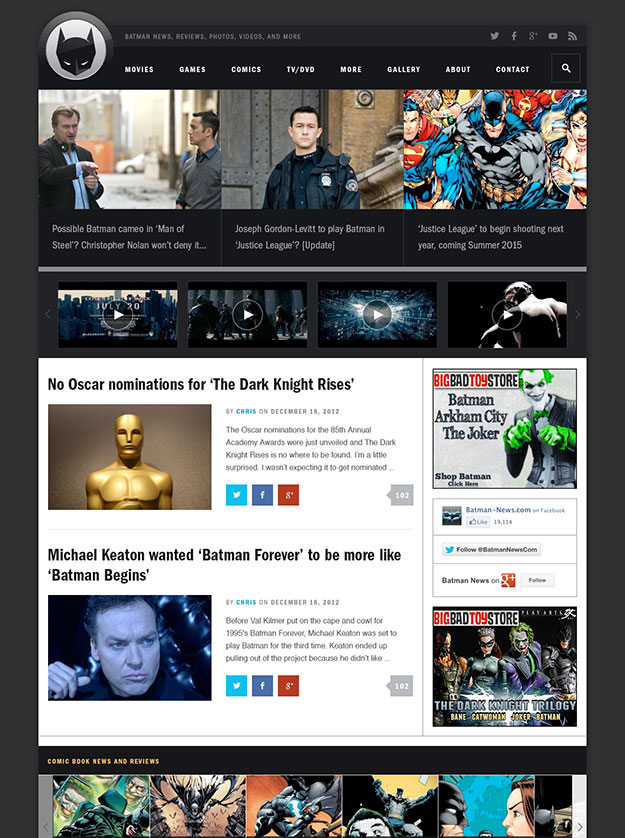 Batman News kicked the year off in style for us and still remains one of my favorite projects. There will be a few additions to the site in the near future, so keep a look out for those.
AudioTheme
Partnering with Luke McDonald on AudioTheme was one of the best decisions we could have made. He's a productivity machine and a joy to work with.
AudioTheme itself is a WordPress plugin/framework to help music makers manage their discography, gig schedule, and videos. We launched in May and have been focused on building our product offering since. The framework has been purchased 200+ times with no marketing, aside from a tweet or two. We're betting on it taking off this year.
Applying the skills and knowledge we've acquired over the years in client services to our own product has been a satisfying experience and something we plan to pursue further.
Americanaura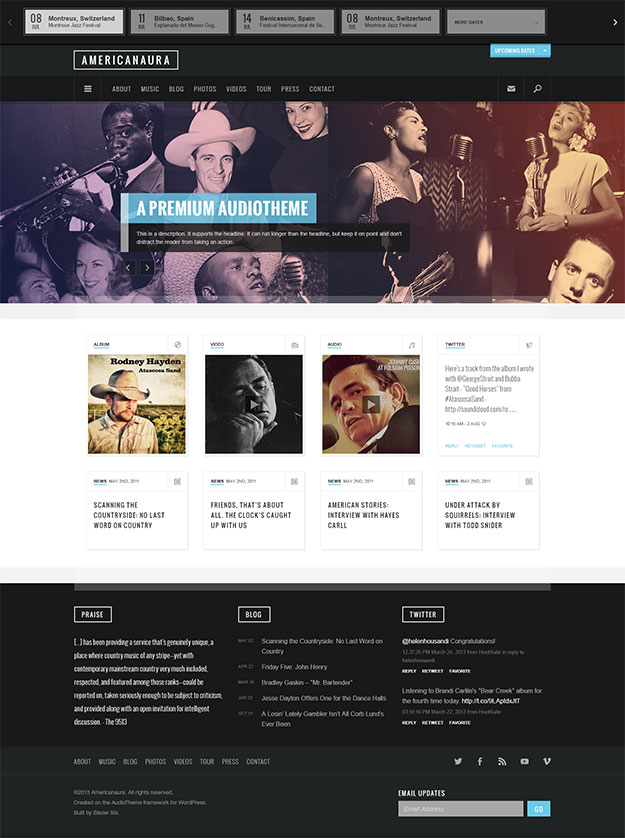 Americanaura is a theme we created for AudioTheme and the first premium WordPress theme Brady and I have built and released. It won't be the last.
WP Site Care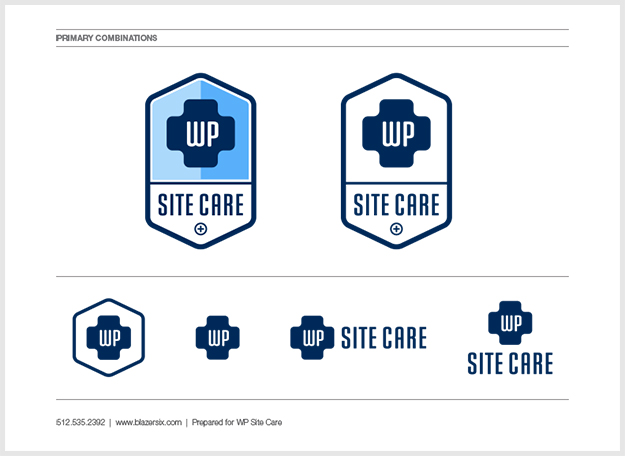 I had the opportunity to work on a design-only project updating the identity and website for the WordPress support business WP Site Care. It was a privilege working with Ryan Sullivan, one of the nicest and most genuine people I know and the owner of WP Site Care. The site hasn't launched yet (soon, I hear), but I don't think he'd mind me sharing the new logo. It was a fun process.
TekRevue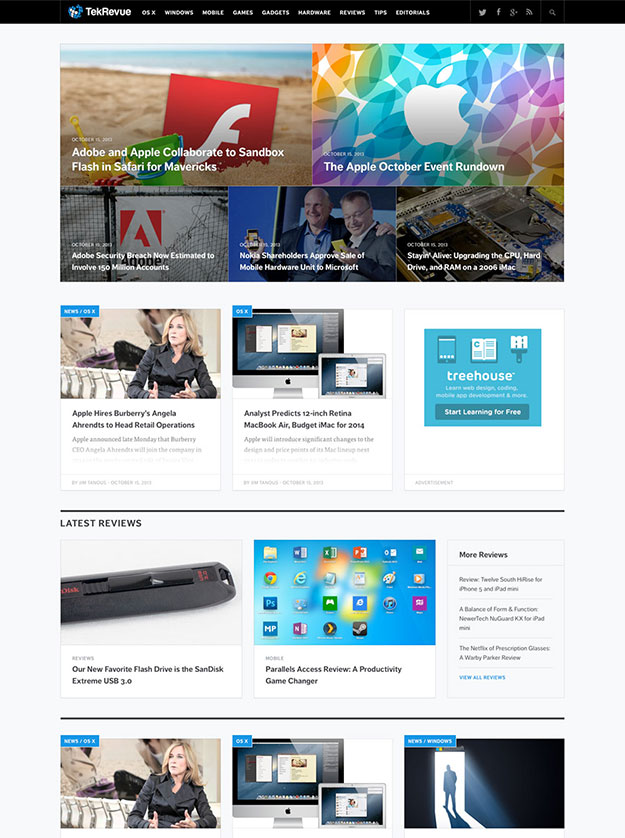 I'll be writing about the process of designing TekRevue soon, but for now, check out the sidebar Brady built and tell me it ain't slick.
@realFATmedia @brover @bradyvercher Was that sidebar nav a widget? Plugin? Pure code? Can I trade my second-born for it? :)

— Chris Lema (@chrislema) December 10, 2013
Likely my favorite #GenesisWP site ever. Flat out amazing work by @realFATmedia, @bradyvercher, and @brover. http://t.co/5KY8Ywsiwk

— Ryan D. Sullivan (@ryandonsullivan) December 10, 2013
In summary: We had some badass clients in 2013.
Top-Shelf WordPress Developer
I consider myself fortunate to be able to work with Brady, who I consider a top-shelf WordPress developer. I know I'm supposed to say that because he's my brother and it's good for business to trumpet the skills and general awesomeness of the people I work with, but I'm not the only one who thinks so. If you need further proof, check out the various tools he's released on GitHub this year.
Ready Or Not, It's 2014
Looking back, WordPress has been the foundation of almost every site we've built since 2006, but it hasn't intentionally been part of our identity as a company. We plan to change that. Not just the focusing on WordPress, but being intentional about the things we do.
In 2013 we spent more time working in our business instead of on our business, a distinction Michael E. Gerber addresses in his book The E Myth Revisited. We want to change that too. It'll be a process that happens over time and I hope you'll join us. Here are some more things we plan to be more intentional about in the new year:
AudioTheme More
We'll continue dedicating time making what in my biased estimation is already a super product even better.
Collaborate More
AudioTheme and TekRevue are two projects we collaborated with other people on last year. We liked it so much we hope to do more of it.
Write More
I've been apprehensive about making writing a goal in the past because it seems to be the first thing neglected when times get busy. I believe writing is a critical part of learning and discovery, so I'd like to make it a priority. Hopefully I'll be able to provide something of value in the process.
Podcasting?
Maybe.
Meet New People
One of the advantages of working with WordPress is the community of people willing to share their time and knowledge. If you're one of those people and reading this, we'd like to get to know you. Reach out and tell us about yourself.